Discussion Starter
·
#1
·
Well, I finally got out, for a day at least. It's looking like it might have been a one-day hunt; my vacation didn't fall into place the way I had intended...
Anyway, a LOT of people from here, CouesWhitetail, and AZSJ gave me some good places to go. My friend the taxidermist told me of a spot which happened to be closest, so I thought I'd give 'er a go... Wanted to take my daughter out to get some father/daughter time. I wanted to be out the door by 4:00 AM, but it was 4:45 by the time the rubber hit the road... oh well. Got turned around in Tucson for a few minutes, and finally, arrived at Ye Olde Hunting Grounds...
Talked to a guy hunting birds near a tank - he said he had kicked up a couple of does earlier - unfortunately, they were in an unsafe direction (houses). We picked a distant hill, and off we went, tromping through the trees and prickly pear.
34A is nice - some of you may recognize where we were: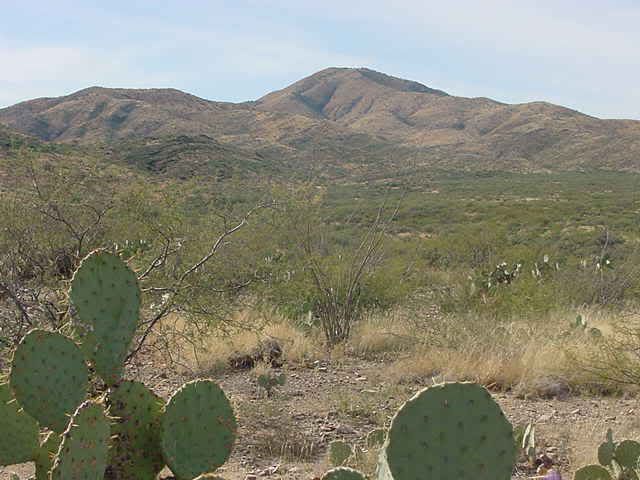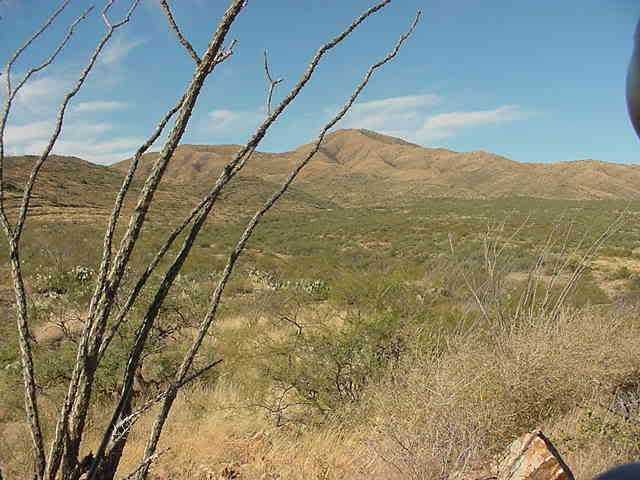 So, I was glassing, and my daughter was well - doing what most 8 year olds would do - chattering, messing around, eating all her food and drinking all her water.... she did actually mess with the binos some..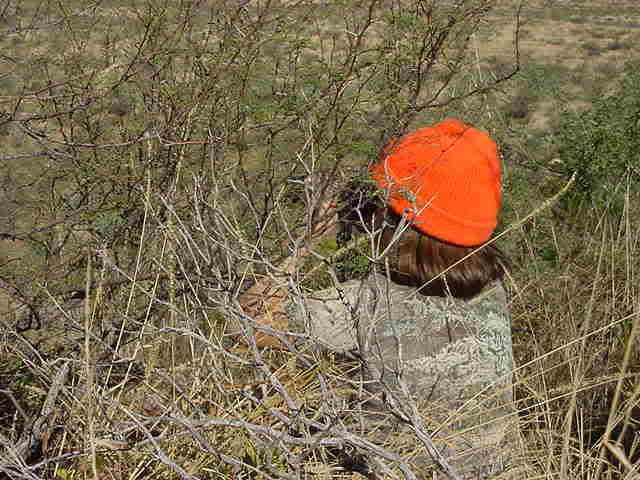 Around 12:30 she asked me to dig some cactus needles out of her knee. I spent a few minutes messing with that, and telling her to not yelp so loud... stood up, and there is a big doe walking by, about 50 yards away. I'm whispering "look, look".. and finally she saw it. So, finally she had some incentive to try and quiet down, and to quit chattering. About 10 minutes later, another doe walks by.. same route pretty much, and again - about 50 yards away. This time I managed to get my camera out
Here she is looking toward us (follow the ocotillo in the center of the pic - the doe is about halfway up, just to the right):
and walking by: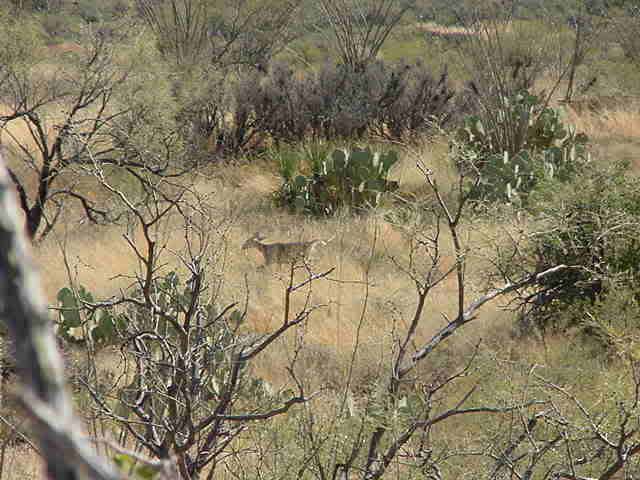 Anyway, we hung around until 2:30 or 3:00 waiting for the bucks, but none showed. Nevertheless, it was a good day!
Question - the first doe was real big - the second was definitely a Coues. Do mulie does and Coues does ever travel around together?