Discussion Starter
·
#1
·
Took Coco (the new dog I acquired last week) out to Desert Pheasant Recreation for a tune up. Her original owner said she hadn't hunted in 2 years. I had Bob from DPR put out 4 bobwhites for us.
I really didn't know what to expect because this was out first time out together. She started out pretty slow, acting like she wasn't sure what I wanted her to do. She finally started ranging out and quartering away, getting a little further out each pass.
It took her a while, but she eventually locked up (left my camera in the jeep
) and held pretty steady.
I flushed the bird, missed the 1st shot, and got it with the second. Coco was on the bird in an instant, ran back to me, and dropped it at my feet. I swear she gave me a look like "Now I know what we're doing!" and off she went again. She got 2 more before I made her stop. She's a little out of shape and I didn't want to push her too much.
I'll take her back out there again next weekend and we'll do a few more.
She is really something..If she started getting too far out, all I had to do was whistle, she'd look, and respond to hand signals. I just pointed and she went that way. Bill (her original owner) really did a heck of a job with her.
Here's a tired Coco resting by the jeep: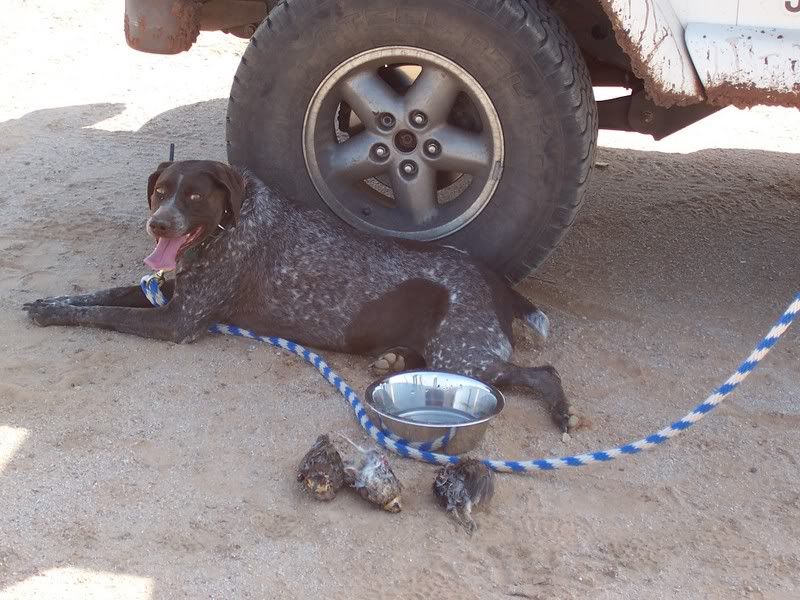 Wants some water..