Discussion Starter
·
#1
·
Went out today to start my Javelina Scouting in 37B . My friend Eric and I tried a little Preator hunt as well. I found some signs of Javelina but didn't see any. Hit some good washes and the rain last week helped alot. I walked the wash and get to see all the new tracks. We went to where the GTG was to be on Freeman Rd. , same spot that you all were suppose to meet at ( including me :roll: ) and did some Quail hunting. We each bagged two and lost one each.
Now for the Predator Hunting. We didn't manage to call any coyotes in and we tried a few stands, but it was fun and got a little more practice with the hand calls. I did bag my first SKUNK . ( Yes it is a PREDATOR :lol: ) Here is the amazing thing - As we pull up to a tank to do some more Quail hunting I see a bunch of cows about 30 yrd in front of me. They see me and start moving away and making all kinds of MOOing sounds. I keep an eye on them to see if they are scaring up any birds. Some tweetie birds are moving to my left and flying out of the bushes, but some thing keeps making noise to my left so I give a look and there is a Skunk 12 feet away from me. It took me a second to see what it was and he was turning looking at me and pointing that tail at me. :shock: I wouldn't have shot if he was moving away from me , but I was in fear for my LIFE.
Now for the amazing part.
My friend Eric bagged one last year with his 45 pistol. Same spot 20yrds away from where I just shot my Skunk. It was one year and one week ago. At that time I was carrying my Camera and no gun. This time I had my gun. As we were walking up to the place we were joking about the Skunk he shot last year. I tried to get a picture of his Skunk, but almost threw up because of the smell. That was the funny part we were laughing about walking up there. I tried to get a picture of this one, but couldn't get close enough . This is one Predator I am scratching off my list and hope I don't have to shoot one that is getting ready to spay me.
Picture is a copy off the G&F site.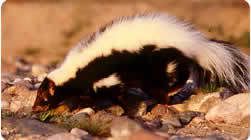 My frienf Eric shooting his Skunk a year ago.
.
So How Do You Shoot A Skunk and not have it spray? Is it a head shot?
Have anyone bagged a Skunk before? Anyone get one mounted?